Digital teams are awash with customer insight, but it's not so easy to source reliable unbiased customer data for retail teams. In fact, the mystery shopper is in many ways still the de facto way of evaluating in-store customer service and experience.
But what if retail teams could get the same insight into customers in-store as we all do online. Are we finally about to start seeing synthesised customer experiences that leverage online and offline data to build a whole new approach to the clicks & bricks retail model, at least beyond click and collect, returns!?

The trend setting streetwear brand size? certainly believes there is more they can do to improve what is already an amazing in-store experience. size? collaborate with leading brands to offer unique and exclusive lines of footwear and apparel, with stores all over the UK and internationally, and with each one being unique with close ties to its local community, providing the best customer experience is part of size? DNA.

Fun fact: this fusion of being global while also being local has led to size? coining the phrase "Glocal."
We had the pleasure of presenting at recent CX Circle with James Watkins head of multichannel at size? exploring how they have literally been walking in their customer footsteps in several stores.


Digital vs Offline

Multichannel/omnichannel are initiatives many of us are familiar with, and when looking at the retail sector the way these initiatives often manifest (for the end customer at least) is being able to buy online, pick up in store followed by a few emails some relevant some not!

Compared to a pure digital experience this is a little underwhelming, because things we take for granted in digital don't so easily correlate in person, for example: "Intent".

In the digital world user intent can be inferred by:
search terms
links clicked
affiliates
offers engaged with etc


Intent in person is much harder to identify:
did the customer just walk in at random?
did they purposely come to the store to check a product they saw online? or
did the shop window entice them in?


Short of the staff asking every customer a series of questions and methodically documenting the answers there is no easy solution to capture this data.

The future labs

To REALLY provide the very best experience regardless of the channel, you have to walk in the footsteps of your customers. You have to see and feel the experience from their vantage point, essentially you have to empathise.

The mystery shopper is a well-known concept, but it does have its flaws, deliberately or not it can introduce recall biases. We all experience this when we recount something that we experienced, it's perfectly normal.

So, how can retailers understanding more about their customers, what draws them in, what catches their eye, which brands do they engage with, do they buy the brand/product they first interacted with?

This was the basis to our talk at CX Circle in The Future Labs. Using wearable glasses (Tobii) with integrated eye tracking we conducted a study in partnership with size? to walk in the footsteps of their customers.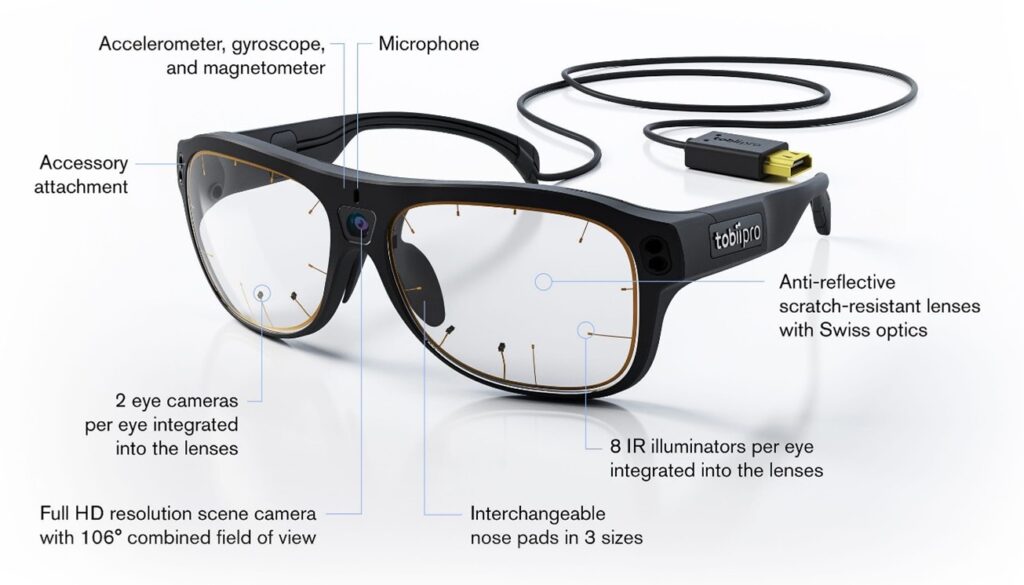 The study took place over a single day in several locations and all the data was compiled over a couple of weeks to shape the many findings. To compile the findings the team at REO built a model of the store so that we could overlay the gaze data to look at hotspots as in this example of the shop window. Interestingly the study showed that people want to look deep into the store, past the shop window and don't focus too much on what is in the shop window.

The Demo

size? are a brand that push the boundaries, they are, well just cool – their lines of streetwear define industry trends so when it came to discussing options to showcase how the glasses work, we all agreed:

It has to be LIVE, because well, that will just be cool…

The event (CX Circle) is hybrid so with a jam-packed room and over 100 tuning in via Hopin we thought the best approach would be to involve the audience, we will pick out a willing participant. But the tricky thing with the glasses is we see exactly what the participant is looking at, we can't control that – let your imagination take you to where this could go wrong!

So, to avoid potentially some embarrassing gazes we decided we would send our very own dream team of Julia Megginson and Simon Gripton to size? flagship store in Carnaby street to wear the glasses in situ and stream it directly back to the big screen on stage!

Blimey great idea but how the hell do we do that…

After a fair bit of testing and a slightly clunky setup we got the stream working! The dream team sprinted over to Carnaby street, got setup and we LIVE to the size? store as you can see in the video below.
Despite to odd gaze here or there – the live demo was a huge success and really helped bring to life how the glasses work and just how powerful they can be to see things from your customer's vantage point.
This is just the beginning for size? and while the retail team were a little skeptical at the outset of the study proved a huge success. They have loads of really cool cutting-edge initiatives coming up across all their stores.

If you want to walk in your customer's footsteps get in touch now.

About size? Since 2000, size? has specialised in supplying the finest brands in footwear, clothing, and accessories. Offering exclusive collections which cannot be sought elsewhere, size? delivers expert knowledge behind the products, their impact on fashion and culture, and why they have been so significant within the history of these brands.

size? website www.size.co.uk

About Contentsquare Contentsquare delivers the power to make the digital world more human. Its AI-powered platform provides rich and contextual insight into customer behaviors, feelings and intent — at every touchpoint in their journey — enabling businesses to build empathy and create lasting impact.

Contentsquare website www.contentsquare.com

About REO Digital REO is a digital experience agency based in central London. We're an eclectic mix of bright and creative thinkers, embracing the best of research, strategy, design and experimentation to solve our clients' toughest challenges. We work across a variety of sectors, with companies such as Amazon, M&S, Tesco & Samsung. Whatever the challenge may be, we apply design thinking to identify and deliver big growth opportunities for our clients.