Personalisation has been on everyone's lips for many years, but which website really offers it? In the following article, we're going to take a look at how businesses can make the transition from the seemingly aloof to a brand that truly cares about their customers.
Why is Personalisation Important
According to research, nearly 44% of consumers turn into repeat buyers if you give them a personalised shopping experience. Every ecommerce store worth its salt knows that their prosperity hinges on their ability to create a personalised experience for their customers. With more than 85% of shoppers using their smartphones to find the best deals and information on products, it's become apparent that the online consumer demands quality not only in the product or service they're about to invest in, but also in the personalised experience that is offered.
According to a 2017 Personalisation Report carried out by Segment, ecommerce stores can benefit from offering their customers a personalised experience in four major ways;


Customer retention
Fulfil customer expectations
Increase in average order size
Minimise returns

The next section will focus on the steps that businesses can take to increase that personalisation, and, in the process, increase their sales.
Use Existing Data to Build Customer Segments
The easy formula looks something like this:

Mass >>> Segmentation >>> 1:1 Personalisation

In order to provide a truly personalised user experience for your visitors, you must first break down various customer demographics into segments. Finding demographics can be achieved by simply tracking customer behaviour across your website. For instance, some of the segments that can be created using key data from your website can be plus-size shoppers, sale shoppers, single women, AOV brackets, and so on.
It should be noted that the more segments you create, the better the personalisation experience is going to be. This is because you'll be using key data metrics to answer the main pain points of different customer demographics.

Creating a customer persona, followed by possible answers to potential questions, are the tools with which to create effective content that informs and entertains your audience. Segmenting your customers will allow you to establish the key pain points that are experienced by different customer demographics as they go online to make a particular purchase.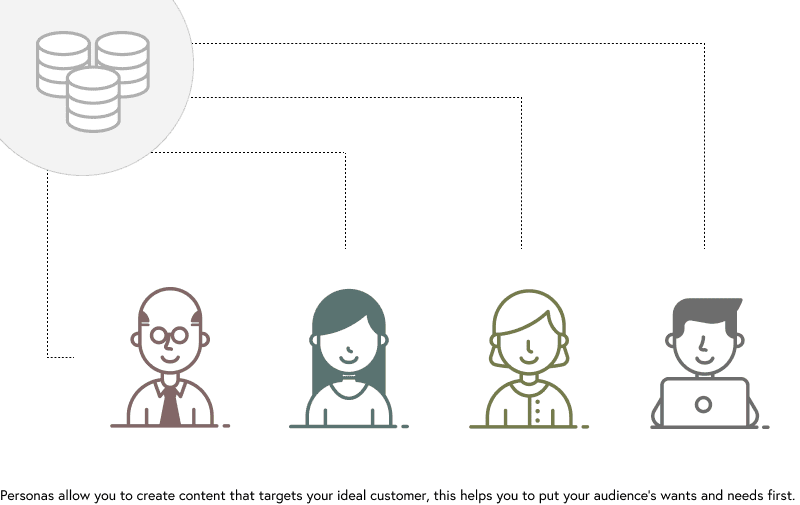 Build Customer Personas Using Behavioural Data
Knowing which customer falls into what category and then targeting those customers accordingly is key to building a personalisation strategy. This means that you'll need to separate the customers depending on their behaviour on your website. For example, you cannot use the same strategy for a VIP customer who is highly responsive to your marketing and has a high order frequency, as supposed to lapsed customers who haven't made a purchase in a while and are not as responsive to your marketing efforts.
You can also utilise A/B testing to identify customers, and then find ways to create a more engaging customer experience on your site that will result in the desired outcome (e.g a sale, registration, form submission etc). For instance, if you have customers visiting your site and leaving items in their shopping cart, you can put a reminder on the homepage of the items that they have previously saved the next time they visit your site, or send email reminders This can help push a sale forward as a reminder of the desired product.
Businesses can use behavioural data to map out user journeys. For example, how the customer navigates through the different sections of a site, how easy or difficult users find moving from one point to the next. Could the checkout process for the customer be made easier? These are only some of the questions that you should ask once you build a customer persona.
It pays to create multiple customer personas depending on the type of product or service you're offering and the demographics that are more likely to take an interest in particular products.
Real-Time Personalisation is Key
We live in a time when consumers want instant gratification, be that in the form of a special offer or discounted rates, or an email reminder of the new winter collection or new product launch of their favourite brand. Businesses need to focus on ways to serve information to their customers in time so that they're more likely to take action on that information.
Specialist tools such as Dynamic Yield can help you do just that. With such tools brands can create a personalised experience by serving that information across all their platforms in real-time. This, in turn, helps create a truly omnichannel experience for the customer.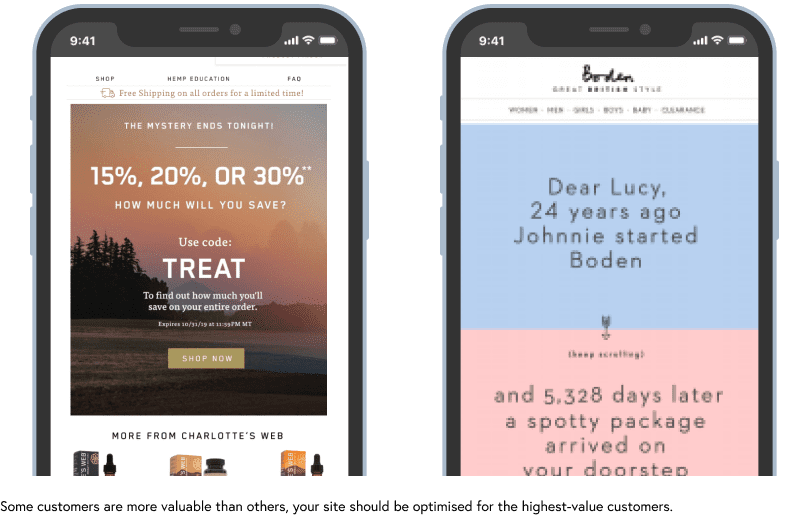 Build a Strong Data Foundation
Personalisation is a data-driven game, therefore businesses need to ensure that they're using the right data sources and measuring the right A/B tests in order to identify the correct segmentation data; This can be achieved by using a blend of historical customer data and real-time information. This mix of data can help brands create a customer persona based on the profiles of their visitors, and create a personalisation strategy based on the context of these interactions and customer behaviour.
As businesses move to grow their customer base in an ever-changing ecommerce environment, only such brands that are able to define cyclical customer journeys and track the performance of their optimisation, will be able to benefit in the long term. The idea behind using a solid data foundation to build a customer personalisation strategy is to use that data to drive real value to the customer, which will in turn impact your bottom line.
The majority of ecommerce businesses have some form of personalisation strategy in place to grow their customer base. Attracting your 'known audience' is always going to be different from reaching out to a wider audience. Knowing what changes to make according to user preference can help increase conversion rates and drive sales.